| | |
| --- | --- |
| | Marco Ceccarelli is the founder of the "L'Airone" Radio-Controlled Airplane Piloting School. Flying has always been a young and instinctive passion for him. A member of the Perugia Aero Club since he was 13, Ceccarelli began to participate on a national level in competitions as well as in various other activities related to model airplanes, specializing in "free flight". He subsequently moved on without interruption to radio-controlled flight when radio-control equipment first appeared on the market. One of Italy's main forerunners in electrical flying, he has concentrated all his efforts in this field since the early 80's. In fact, designing and constructing his own model airplanes, he participated in this specialty as a member of the Italian team at the World Championship competitions held in Lommel (Belgium) in 1986 and in St. Louis (USA) in 1988. He then decided that, in Umbria, he would establish the first model-airplane school so that he could share his passionate enthusiasm with others and give them a chance to experience the joy and thrill of flying. |
Air, sun and earth: the essential ingredients for your innovative vacation!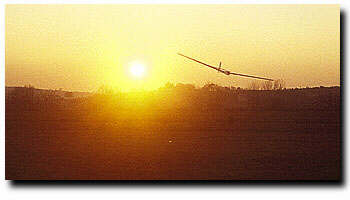 "L'Airone", the Radio-Controlled Piloting School in Perugia, is the first school established in Italy to offer the Italian and European markets a vacation plan with "everthing included" -- vacation plus school. Why? So that not only our students, but also their family and friends can spend an exciting vacation learning radio-controlled piloting techniques while enjoying the pleasure of visiting an ancient land, rich in tradition, whose charm has remained natural and untouched.
FUN AND ACTIVITIES FOR EVERYONE
Special attention will be dedicated to the friends and family accompanying the students and they will have a chance to participate in guided bus excursions to the main historic centers in Umbria. Excellent typical local cuisine, nighttime entertainment, tennis, horseback-riding, solarium, archery and football tournaments will also add an exciting highlight to their holiday. In addition, anyone who is interested can take an airplane "tour" from a nearby flight area.
FLY AWAY ON VACATION! WHY UMBRIA?
A trip to Umbria is not only a chance to participate in the "L'AIRONE" Radio-controlled Piloting School. A vacation in Umbria is not just an alternative to the usual seaside or mountain holiday: it's a clear choice! A happy choice. Anyone who comes to Umbria is immediately immersed in the tradition of the area's ancient Italic culture, a deeply-rooted tradition that, in other places, somehow gets lost in the chaotic pace of modern times. A trip to Umbria means finding a sense of well-being that goes beyond day-to-day routine, among people who live simply in a clean and natural environment. This atmosphere is reflected in the beauty of Umbria's towns and in its countryside, its wholesome food and unique cuisine, and in the way it is constantly renewing itself , keeping up with the times yet leaving its natural beauty intact. Quite simply, it's everything you could ever want it to be, right where you are. Umbria can sense all this and everone who comes to visit is treated like royalty.
L'AIRONE Radio-Controlled Piloting School

| Home | E-mail | Information | Where We Are | Links
RADIO-CONTROLLED PILOTING SCHOOL
VIA SETTEVALLI, 556 - 06129 - PERUGIA - TEL & FAX +39 075 5053725 - CELL +39 335 6664904
info@airone-rc.it